Overseas Service Foreign Company
For the companies or organization who intends to enter the Japanese market, who is eager to investigate Japan or wants to search possible Japanese business partners, BizArch plays a role of a correspondent for you.
BizArch's major services:
market entrant such as marketing and sales
market research
search for M&A counterparties
search for business partners
create a business plan
negotiation
form an alliance
past research report
The following information is the current trend of M&A in Japan, which might be valuable for the companies interested in investing into Japan. BizArch will provide such information if desired to download a Summary report of current Japanese M&A market.please register here.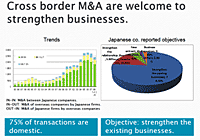 Presentation M&A in japan Feb 2009.pdf


Japanese chocolate market Feb 2009.pdf



Copyright (C) 2009 BizArch. All Rights Reserved